Hello, and welcome to BIG Holiday International.
We are a full service travel agency and destination management company that is part of the Big Holiday Co., Ltd., founded in 1964 and headquartered in Tokyo, Japan.
Big Holiday International specialises in tailor made holidays providing the highest possible service of flights, hotels, tours, guides, MICE managements and more for overseas visitors to Japan.
With our long history and 50 years of experience, we have built the stable status for domestic tours already, and a wide network of partners within the Japan's tourism industry. Big Holiday is especially proud of NO. 1 record of attracting ski customers in Japan.
We always welcome you to contact us for your customized travel enquiries and arrangements in Japan. We strive to offer the best plan to match your budget and for individual, group or MICE travellers.
We hope that you have an unforgettable time in Japan, and we look forward to serving you with our warm spirits of hospitality. Please feel free to contact us for all your travel needs.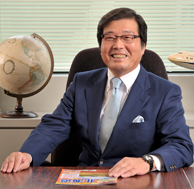 Representative director and President, YASUTOSHI IWASAKI
Company Profile / Map
Japanese name:
ビッグホリデーインターナショナル株式会社
English name:
BIG HOLIDAY INTERNATIONAL CO., LTD.
Chinese name:
盛大国际旅行社
Registration:
Japan Association of Travel Agents (JATA)
Tokyo Governor Registration 3-5954
Registration Date:September 7, 2007
Appointed travel agency for receiving Chinese tourist groups visiting Japan 0711-004
 Address:
Address: 7F Hongo Daiya Bldg., 3-18-14 Hongo, Bunkyo-Ku,
Tokyo 113-0033, Japan
TEL: +81-(0)3-6240-0602
FAX: +81-(0)3-6240-0635
 Beijing office:
Address:

 

B1004, Great Mall No.6 Xiaozhuang Road, Chaoyang District, Beijing 100026 China
TEL: +86-10-59478242
FAX: +86-10-85888229
Beijing Representative: George Miao
E-MAIL: kingocollege@hotmail.com
 Capital:
44 Million yen
 Main banks:
Mizuho Bank Hongo Branch
Bank of Tokyo-Mitsubishi UFJ Hongo Branch
 Group of Companies:
Big Holiday Co., Ltd.
Community Network Co., Ltd.
TAS Co., Ltd.